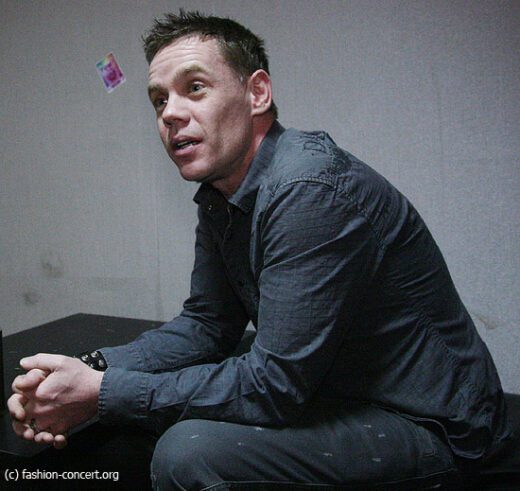 On the 22nd of Fabruary famous Dutch trance DJ RAM played his fantastic set in the Moscow club «Teatrъ». He is the author of the legendary track RAMsterdam and sensational RAMeliа (tribute to his wife Amelia, who passed away this October). We managed to meet with Ram and talk about his life and work.
Fashion-Concert: How has your life changed since that tragic event you faced this autumn? On the one hand you lost your beloved person, but on the other hand your tributе-track RAMelia has had huge success and became another big milestone in your career after the RAMsterdam. You must have mixed feelings and emotions now?
Ram: Well, yes. My life has changed in 180 degrees after that, it's very difficult. But it's also very beautiful to see what's happening because of my tribute track RAMelia, which has been doing very well at the end of 2013 and got so hearty listeners responses and great support from many DJs.
Fashion-Concert: But why did you decide to make this track uplifting? Not chillout or downtempo, for example?
Ram: It's simple — because I'm uplifting DJ and my wife also loved uplifting trance.
Fashion-Concert: Your first productions were made under the alias Bas & Ram in collaboration with Bas Abels, you created hardtrance and performed at the Trance Buddha club in Amsterdam. Why did you decide to start solo career? Was it connected with changing your style?
Ram: After 14 years of working together the chemistry was finished and we both needed to have new challenge and I also wanted to focus on my own style, on my own taste of music (Bas was more going into the house music). So, it was easier to split up.
Fashion-Concert: Talking about your background, have you always been a DJ? Was it your first profession?
Ram: I was always interested in music and in 1995 I went professionally. So, yeah, I always did dj-ing. I had a few other jobs before, but nothing spectacular.
Fashion-Concert: Who influenced on your musical tastes at the beginning of your career?
Ram: At the very beginning house music was my inspiration — typical dutch DJs like Dimitri and Remy. It was 1989, long time ago… I was very interested in this new style of music. So, from partying I went to dj-ing.
Fashion-Concert: You have the whole series of tracks featuring your name – the famous RAMsterdam, then RAMazing, RAMplify, RAMbition, RAMnezia and of course legendary RAMelia. How did it come about?
Ram: All this started like a joke, just to have fun. But then people told me to do more, and it went on and on. So, it became like a tradition.
Fashion-Concert: Will you continue this tradition or RAMelia will be the final track in this series?
Ram: Yes, the followup of RAMelia is almost finished – the track called RAMore. It will be also uplifting, like all my RAM-tracks.
Fashion-Concert: Don't you want to return to you roots and create some hardtrance?
Ram: My roots have always been uplifting. I started with trance and progressed to hardtrance, then it was hardstyle and finally I went to trance again.
Fashion-Concert: These days many people talk about the influence of bigroom house and mainstream sounds on trance music and think that the original trance is slowly dying out. What is your opinion about it?
Ram: No, I don't think so. Trance is evolving now. Yes, there are influences from other popular genres, but I Do think that trance will take over again and will become better. As we can see, comparing with the previous year, now it's much bigger again.
Fashion-Concert: So, why can we hear W&W in the radio-show "A State of Trance" and its jubilee events, for example? (Considering the fact that they produce not trance at all now).
Ram: It's just the politics of labels, — because they these artists are signed to them.
Fashion-Concert: You have a son. Would you like him to continue the dynasty and become a DJ?
Ram: Oh, I'm not sure if I would like it. I know the ins and outs, it's quite hard work. So, if he finds another job, I'll be happier. But if he likes it, then of course — do whatever you want.
Fashion-Concert: How old is he?
Ram: He's 10 years old. He's very interested in dj-ing now, but prefer Avicii more (laughing).
Fashion-Concert: Continuing that question, what do you like and don't like about your profession? Or you are completely happy with it?
Ram: I like everything in my profession. Of course, if you use a lot of drugs and drink a lot of alcohol it's bad for your health. But I don't do it. I'm completely satisfied with my job, no negative parts about it.
Fashion-Concert: I know that you love cooking. Could you tell us about traditional dutch cuisine and your favorite dish? Didn't you think about organizing restaurant business maybe?
Ram: Yes, that's true, I like cooking a lot! But Dutch cuisine is pretty boring, it's just all about meat and vegetables. I like more Italian and Japanese is my favorite (sushi is my number one!). And no, cooking is just my second hobby. So, I like to eat and cook, but not to work in this field. I'm stick with music (smiling).
Fashion-Concert: What are you hobbies except for cooking?
Ram: Well, I just don't have much free time for other things. Music and my son take all my time.
Fashion-Concert: Do you listen to some other kinds of music except for trance?
Ram: Yeah, I like chillout and rock sometimes.
Fashion-Concert: And the last question is traditionally about current projects and plans for the future.
Ram: My current project is the debut album now. Hopefully I'm planning to finish it in September, but don't know yet. So, I'm working very hard on it now. I have some nice collaborations for that with Susana, Betsie Larkin, Stine Grove and more. And I've started label called Grotesque: we did some big events in Holland and are doing the international globe tour now, so I'm very busy at the moment!
Fashion-Concert: Thank you and wish you good luck with all your productions and projects!
Ram: Thank you for the interesting interview!