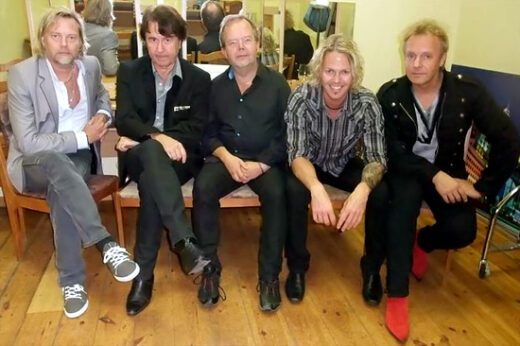 The legendary Swedish pop/new-wave band 'Secret Service' is still very popular. The guys spend a lot of time in tours and have sold out gigs as well. Most people know their hits «Oh Susie», «Ten O'Clock Postman», «L.A. Goodbye», «Ye Si Ca» and other songs.
This December 'Secret Service' put on some big concerts in the Baltic States and Russia. Before that we took an interview with Ulf Wahlberg (band producer & keyboards). (Interview version in Russian >>)
Fashion Concert: Secret Service will tour with Alphaville in Lithuania and Latvia in the end of December. What have you prepared for this time? Any surprise?
Ulf Wahlberg: For this event we have picked up some new songs into our show and this will be the first opportunity to perform them live on stage. From the album "Night City" we have added "When the Night Closes In", "How I Want You", "Fell You Near Me" and "Do You Remember" and from the album "The Lost Box" we have added "Someone Can Open Your Heart" and "I Want You, I Want You, I Want You". We have not yet decided exactly the repertoire for the concerts but we will certainly try to squeeze in as many of them as possible. We would like to deliver fresh material to the audience. And of course there might be some other surprises, but I can´t let you know them now, it would not be a surprise if I did! (smile)
Fashion Concert: The band exists more than 30 years that's the big age in music career. What was the main thing that happened during this time?
Ulf Wahlberg: Well, 30 years is a long time and there has been many "main things" happening through the years. One to mention is when our first world-wide hit "Oh Susie" went up the charts all over and was number 1 in 29 countries, which was awesome! Also a lot of fun during the tours all over, of which some stories maybe are better not to tell. It will come in our biography one day. Another big thing is that we decided to reform the group in December2006 to join the big event "Retro FM" in Moscow. After some silent years we went back on stage and meet an audience of 40 000 that new the lyrics of our songs better than we did.
Fashion Concert: On what new material are you working now (album, songs etc)?
Ulf Wahlberg: We have plans to record a new album during 2014. There are lots of new songs written that we would like to chare with our fans and hopefully get some new fans too. We have always liked to work in the studio and this time will certainly not be an exception. Release will hopefully be next autumn or if we manage to get it ready in time already in the beginning of the summer.
Fashion Concert: What would you like to change in Secret Service's history, songs or lyrics? Do you have any creative ideas not realized so far?
Ulf Wahlberg: History is history and sometimes it´s best not to change anything, but we could certainly have been touring more live during the 80-ies than what we actually did. For example were we asked to go to China as one of the first west oriented artists in the mid 80-ies. That would have been interesting and maybe opened up a big market for us that we of course missed when we turned the offer down. Regarding songs – well, there are a few that we could have skipped or done better! But I don´t want to give any samples in order to not offend those who like these songs anyway. Sometimes you get very surprised when people tell you which songs they like. (smile) One thing that we really would like to realize is to complete the musical "A Flash In The Night" that Tim Norell has been working on for some years now. A musical based on Secret Service music with a story based in early 80-ies Russia, before the wall went down. Hopefully it might be ready during 2014-15.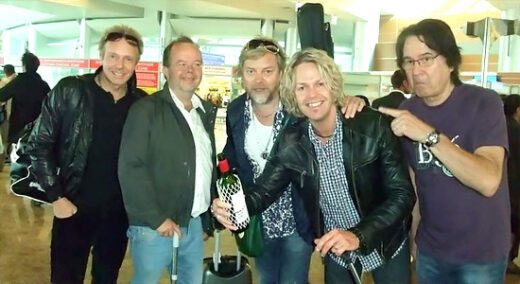 Fashion Concert: What music had influence on you? What music do you like to listen just for fun?
Ulf Wahlberg: Classical music combined with strong, melodic pop/rock is the main influence of our music. We started as one of the first bands to use synthesizers which also led to the curiosity to use new sounds and effects to blend into a regular rock band. And we were so to say "child of our time" and listened with big ears to what was going on in other bands similar to us. Today we all listen to a wide range of music. In the band we have hard rockers, retro pop listeners, classical fans and even some jazz diggers. Personally I´m not a fan of today's pop music, which I often find to main streamed for my taste. But now and then something interesting pops up!
Fashion Concert: How much time do you spend in tours and how much in studios? Do you have enough time to rest after that?
Ulf Wahlberg: During 2013 we have had around 50 gigs all around, especially in Russia all the way from Yuzhno-Sachalinsk to Kaliningrad. It´s a lot of time spent on travel. But it is also very interesting and funny. We are an easy going gang and have fun more or less all the time. Some of us have side projects in the studio and spend quite a bit of time there when we´re at home. But after all we all feel this is a good balance of living that gives us quality of life.
Fashion Concert: Are there any bands, producers or names that you would like to work with?
Ulf Wahlberg: Since we always produced our albums by our selves, the need of an outside producer is not the first on the list of dreams. But of course, to work with guys like Dave Grohl or Daniel Lanois would be a dream. And why not some bass lines played by Sir Paul McCartney?
Fashion Concert: Secret Service was well-known in 80-s when your music was playing all over world. However the band is popular so far. What's the secret of Secret Service?
Ulf Wahlberg: I believe that one big reason is that our music is more or less timeless. We can see that today when we have gigs and see an audience consisting of a blend from all generations. All from Grandfather-Grandmother down to kids from 15. Our music seems to appeal to them all.
Fashion Concert: What would you like to bring from 80-s & 90-s to the present?
Ulf Wahlberg: Strong melodic songs and lyrics that really touch your soul. Music built on music, not built by heavy effects. I believe a good song still is the best receipt for success and during the 80-s & 90-s most hits had that receipt.
Fashion Concert: Any plans for live performance & festivals next year?
Ulf Wahlberg: Of course, we will hopefully continue touring next year and have already some good options in our calendar. There´s no intentions to stay home (smile)
Fashion Concert: What would you like to wish to your fans?
Ulf Wahlberg: We wish them a fantastic 2014 with lots of positive experiences and joy.
Fashion Concert: Thank you for your time. See you at the Grand Show in December!
By Nadine Boeva
Photo secretservicemusic.ru